BRAND & TRUST
BRAND & TRUST
BRAND & MARKET
Established since 2008, Vi Hao has gradually built up prestige and trust among consumers in Vietnam and foreign markets such as: USA, Europe, India, and other countries in the world. ... Vi Hao always wishes and is willing to cooperate with its partners in domestics and abroad to sign processing contracts for customers' private brands to sell domestically or expand market share overseas, wants to contribute to the introduction and building of the reputation of high-quality Vietnamese goods to the world. Vi Hao products are manufactured according to American technology, certified for food safety and hygiene systems by two world-renowned organizations, SGS and BRC..
Vision
Vi Hao aims the goals:
- Affirming the brand, creating a competitive advantage over other brands not only in the domestic market, gradually conquering and reaching out to the international market, raising the value of Vietnamese brands, integrating and developing .
Mission
Our mission is to constantly improve, innovate and create in improving product quality, creating product lines with delicious flavors, ensuring health and safety, bringing satisfaction to consumers. use, reliability in the selection and use of products for processing in each family's daily dishes are always delicious, rich with love and happiness..
Core Values
Inspire passion for dedication, steady future
Learn, create, develop featured products
Solidarity, governance, efficiency at work
Improvement, innovation, machinery, equipment, technology
Occupational safety, hygiene and cleanliness in the working environment
Prestige, quality, lasting value
Qualifications
Verified, Registered and Certified by U.S. FDA (Food and Drug Administration)
This Certificate verifies that the described facility has been registered properly with the U.S. Food and Drug Administration. The Certificate issued by Registrar Corp confirms for commercial purposes that our facility has been registered properly as required by the Federal Food Drug and Cosmetic Act, as amended by the Bioterrorism Act of 2002 and the FDA Food Safety Modernization Act.
Registrar Corp assists businesses with U.S. FDA compliance. Certificates of Registration issued by Registrar Corp provide confirmation to industry that we are fulfilling U.S. FDA registration requirements.
BRC Certification - Global Standard for Food Safety certified by SGS
SGS is approved by the British Retail Consortium (BRC) to offer certification on the BRC Global Standard for Food Safety. Achieving compliance with BRC certification demonstrates our level of competence in HACCP, hygiene, food safety and quality systems.
HALAL Certification

Certification of high quality Vietnamese Product- Global integration Standard

Rural industrial Product Certification 2020
Awards
Vietnam Excellent Brand 2013 - Awarded by AQA USA & Vietnam Intellectual Property Department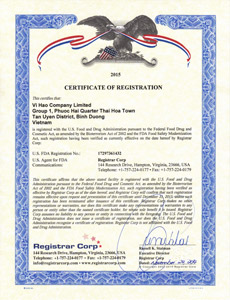 Verified, Registered and Certified by U.S. FDA (Food and Drug Administration)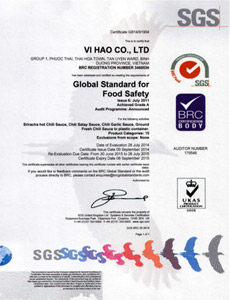 We have been granted the internationally recognized British Retail Consortium (BRC) Global Standard for Food Safety Certification.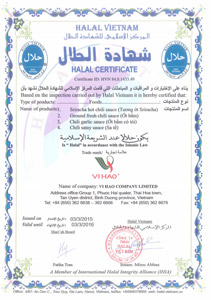 HALAL Certification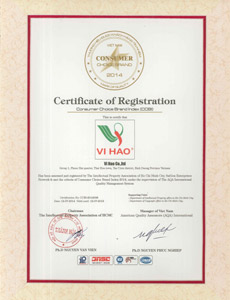 Consumer Choice Brand 2014 Certification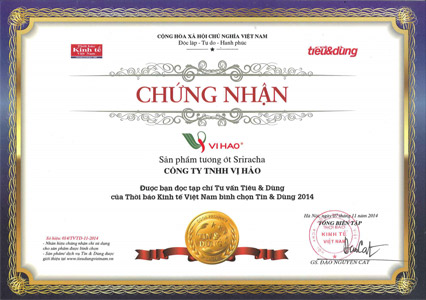 TIN & DUNG Certification
CHILIVIHAO
CHILIVIHAO
Copyright © 2017 - CHILIVIHAO. All Rights Reserved. Designed by 
Viet Net Nam
Vi Hao, ViHao, Vi Hao Co, cong ty vi hao, Vi Hao Co Ltd, chilivihao, chili vihao, sa te vi hao, Tương ớt Vị Hảo, Tuong ot Vi Hao, Vi Hao Chili Sauce, Chili Sauce, Tương ớt, Tuong ot, Tương ớt Sriracha, Tuong ot Sriracha, Ớt bằm, Ot bam, Ớt bằm có tỏi, Ot bam co toi, Sa tế, Sa te, Làm tương ớt ngon, Lam tuong ot ngon, Cách làm tương ớt, Cach lam tuong ot, Công thức làm tương ớt, Cong thuc tuong ot, Hướng dẫn làm tương ớt, Huong dan lam tuong ot, Sản xuất tương ớt, San xuat tuong ot, Công ty sản xuất tương ớt, Cong ty san xuat tuong ot