ABOUT US
ABOUT US
Originating from a passion in the business field, having spent many years in the domestic and foreign markets, grasping the consumer demand for spice products, processed in general dishes and products made from Chili in particular is increasingly potential and diversified in the market. Therefore, the founder of our business, conducted a market research survey not only in the domestic market but also invested in researching the US market where there is a modern industry and a large number of communities Vietnamese oversea live and work. In the past time in the US, according to the habits of business people and our owner who have found that Sriracha chili sauce is available in many restaurants, supermarkets, grocery stores in the US and many other countries. .For that reason, he always cherished and aspired to create Sriracha chili sauce with Vietnamese flavor, typical of fresh, spicy and delicious chili.
Without stopping by monitoring and researching, in 2008 he decided to set up a product research and development department, many samples of chili sauce were created, staff always monitored the color, taste, pH, and so on. After a period of product development, the company has launched the Sriracha Vi Hao chili sauce product line with the characteristic flavor of natural chili towards the high-end product line. Established in 2008, Vi Hao Co., Ltd specializes in processing high-grade spices made from pure fresh chili such as: Sriracha hot chili sauce, satay, Ground fresh chili sauce, chili garlic sauce.. VI HAO's products are all made from natural, healthy ingredients. The company has focused all resources to apply advanced technology according to US technology in the production line to meet the strict requirements for processed food for export in recent years, the company has expanded investment and established domestic market share to meet the needs of domestic and foreign customers.
In fact, the issue of food safety and hygiene is always the top concern of consumers, now on the mass media, social networks, newspapers, it is not difficult for us to update the latest information. do not feel secure related to dirty food, food poisoning, fake goods, unknown origin, the cause of this alarming situation comes from the perception of som manufacturers who do not have a mind in the field. In the food industry, they have put the issue of profit first, while disregarding public health as well as making consumers their own victims.
As society is developing, consumers no longer only "eat well and dress warmly" in the past, but they also want to eat well, protect their own health, Capture the practical needs of the market, VI HAO has always been consistent with the motto "FOR THE BENEFITS AND HEALTH OF THE COMMUNITY", along with production technology according to US standards, Vi Hao always puts the trust of consumers first and wishes to bring the customers with completely natural products, quality assurance, food safety and hygiene.
The company is applying the management systems: BRC, HACCP, GMP, HALAL throughout the process from purchasing raw materials, packaging, processing, filling, packing, transportation .. to consumers. Vi Hao's chili products are always guaranteed to be the top product in terms of quality, the strong chili flavor enhances the richness of the dish, making the dish more delicious, sure to satisfy discerning customers
Company's name: Vi Hao Company Limited
Trading name: Vi Hao Co., Ltd.
Year of establishment: 2008
Factory size: 23,000 sqm
Production capacity: 20 tons per day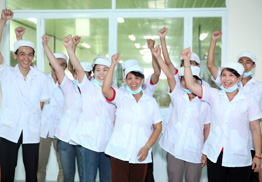 CHILIVIHAO
CHILIVIHAO
Copyright © 2017 - CHILIVIHAO. All Rights Reserved. Designed by 
Viet Net Nam
Vi Hao, ViHao, Vi Hao Co, cong ty vi hao, Vi Hao Co Ltd, chilivihao, chili vihao, sa te vi hao, Tương ớt Vị Hảo, Tuong ot Vi Hao, Vi Hao Chili Sauce, Chili Sauce, Tương ớt, Tuong ot, Tương ớt Sriracha, Tuong ot Sriracha, Ớt bằm, Ot bam, Ớt bằm có tỏi, Ot bam co toi, Sa tế, Sa te, Làm tương ớt ngon, Lam tuong ot ngon, Cách làm tương ớt, Cach lam tuong ot, Công thức làm tương ớt, Cong thuc tuong ot, Hướng dẫn làm tương ớt, Huong dan lam tuong ot, Sản xuất tương ớt, San xuat tuong ot, Công ty sản xuất tương ớt, Cong ty san xuat tuong ot