ABOUT US
ABOUT US
Vi Hao is a company that specializes in producing premium spices made from Vietnam's freshest chili pepper. We are committed to providing natural and healthy products to consumers with our three incredible hot sauces - Sriracha hot chili sauce, chili satay sauce and chili garlic sauce.
Our company's slogan is "for the benefit and health of the community," and we always proudly follow this philosophy. Our first and foremost commitment is to earning the trust of our customers. Using American production technology, we aim to provide consumers with 100% natural products and high quality assurance in food safety and hygiene.
We have been granted the internationally recognized British Retail Consortium (BRC) Global Standard for Food Safety Certification, which is awarded to manufacturers that demonstrate a high level of hygiene, food safety and quality production methods.
We subject our fresh ripe peppers to many stages of evaluation, carefully selecting only the very best chilies to be processed. A key member of our culinary team was instrumental in setting up Huy Fong Foods, the famous chili sauce brand popular in the US and Europe. We have combined his incredible recipes and skill with advanced manufacturing technology to create our unique, high-quality Vi Hao hot sauces, which satisfy the taste buds of even the most demanding connoisseur.
Company's name: Vi Hao Company Limited
Trading name: Vi Hao Co., Ltd.
Year of establishment: 2008
Factory size: 23,000 sqm
Production capacity: 20 tons per day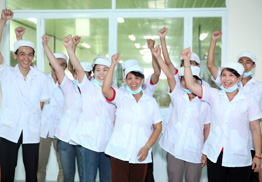 CHILIVIHAO
CHILIVIHAO
Copyright © 2017 - CHILIVIHAO. All Rights Reserved. Designed by 
Viet Net Nam
Vi Hao, ViHao, Vi Hao Co, cong ty vi hao, Vi Hao Co Ltd, chilivihao, chili vihao, sa te vi hao, Tương ớt Vị Hảo, Tuong ot Vi Hao, Vi Hao Chili Sauce, Chili Sauce, Tương ớt, Tuong ot, Tương ớt Sriracha, Tuong ot Sriracha, Ớt bằm, Ot bam, Ớt bằm có tỏi, Ot bam co toi, Sa tế, Sa te, Làm tương ớt ngon, Lam tuong ot ngon, Cách làm tương ớt, Cach lam tuong ot, Công thức làm tương ớt, Cong thuc tuong ot, Hướng dẫn làm tương ớt, Huong dan lam tuong ot, Sản xuất tương ớt, San xuat tuong ot, Công ty sản xuất tương ớt, Cong ty san xuat tuong ot